As an RV owner, you know it's important to keep your recreational vehicle in the best condition possible. Regular maintenance and checkups are vital to ensure your RV retains its value and lasts for years to come. One way to do this is by having any rotted clear bra removed from your vehicle by a professional mobile detailer.
This will help prevent further damage, such as premature fading, rusting, and even pitting of the paint, all of which can significantly lower the resale value of your RV.
At Detail Daddy Mobile Detailing, our team is equipped with the tools needed to safely remove rotted clear bras without damaging your vehicle in the process.
Clear bra (also known as paint protection film or PPF) is a special type of vinyl wrap that helps protect the exterior of vehicles from dirt, debris, scratches, and other minor damage. It is applied directly to the surface of a car or truck in order to provide an additional layer of protection against everyday wear and tear.
RVs are especially vulnerable to these types of damages due to their size and weight, making it important for RV owners to invest in professional, clear bra removal services.
Why You Need Professional Rotted Clear Bra Removal
Unfortunately, over time clear bras can deteriorate due to exposure to sunlight and other elements.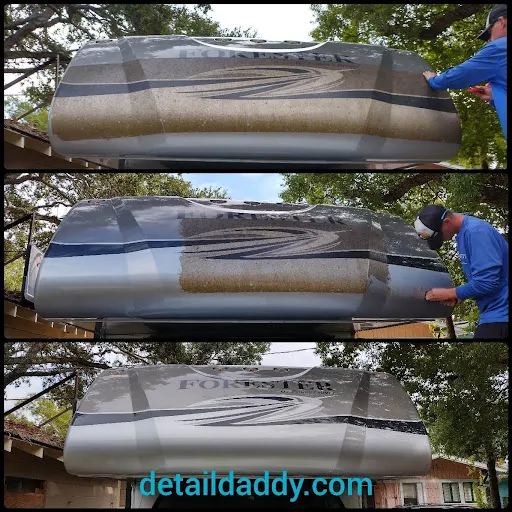 When this happens, they become loose and brittle—which can lead them to adhere to other parts of the vehicle or crack when touched. If left untreated, these rotted clear bras can cause further damage, such as premature fading, rusting and even pitting of the paint on your RV—all of which can significantly lower its resale value.
That's why it's important for you as an RV owner to have any rotted clear bras professionally removed before they cause more serious damage down the line.
Protect Your RV's Value with Professional Clear Bra Removal
At Detail Daddy Mobile Detailing, we specialize in removing rotted clear bras. We use special tools specifically designed for this purpose, ensuring that no extra scratches or dents occur while we work on your RV's paint job. We also have experience working with all types and sizes of RVs, so you can trust us to remove any damaged PPF on your vehicle, no matter what make or model it may be! 
It pays off for every RV owner out there who wants their recreational vehicle looking pristine year after year—to take advantage of professional, clear bra removal services from a trusted source like Detail Daddy Mobile Detailing!
Don't let a damaged clear bra slow down your journey – contact us today for fast, reliable service at competitive prices!
Mobile Detailing Online Booking
At Detail Daddy, we pride ourselves on providing top-quality mobile detailing services for cars, RVs, boats, and more. We will come to your location and provide comprehensive cleaning, inside and out. 
We come to you, so you don't have to take time out of your busy schedule for a detailing session. Our experienced detailers use the highest-quality products and equipment to give your vehicle a thorough clean inside and out. Contact us today for a free mobile RV detailing estimate in Dunedin, Clearwater, Palm Harbor, Oldsmar and throughout Pinellas County!
For your convenience, we offer online booking so you can schedule your detail at a time that works for you.