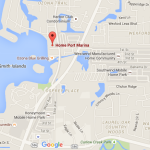 We were recently at Homeport Marina in Dunedin, Florida detailing a beautiful Sea Ray. The job included compounding, polishing, waxing and engine cleaning. When you are getting your boat detailed, this is a great combination of services to request. The first three detailing tasks, compounding, polishing and waxing will get the exterior in top condition. The marine engine cleaning will keep away the grime that starts to break down your hoses and engine paint.
Your neighbors will be impressed with how amazing your boat looks. And then for the little extra wow factor, you can show select friends the engine compartment. They will be really really impressed!
Dont' just have your boat detailed for the wow factor alone. Boat detailing preserves the gelcoat and topside paint. It protects it from the sun and help maintain value. After many years of enjoying your boat on the water, you can sell your boat for a high value. Never underestimate the value of a first impression when you go to sell. Enough talk about boat detailing. Check out some of the pictures below and you will see what we mean.
Get your boat detailed by Detail Daddy.