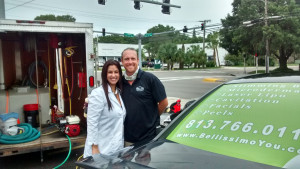 This week we were in Tampa doing a full detail for Ivette at her new health and beauty spa in Tampa, Bellissimo You. Ivette has been a customer for a number of years and it was fun going to Tampa to see her new store. The job was a typical full auto detail with a little extra attention paid to a couple of scratches she got from a scrape she got in a parking lot that left some white pain on her car.
Removing A Scratch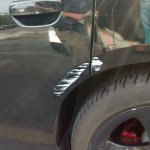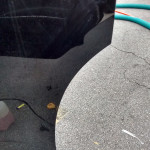 Big paint scratches, as long as they have not cut deeply into the paint, are easy to remove through light compounding. When the scratches have cut deeply into the paint, more compounding has to be done to remove the scratches. The deeper the scratch the more compounding is required. Most of the time, a detailer can remove the scratch and make the paint look great, avoiding an expensive trip to the auto shop to touch up the paint.  In Ivette's case, the scratch was superficial and easy to remove. You can see in the after picture that the paint left from the scratch has been completely removed. These types of scratches are typical of the type of damage you get in and around the city.
Interior Detailing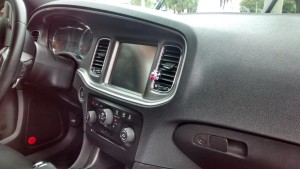 We started with the car interior detailing. For having two kids in the back on a regular basis, the interior was in good shape. We vacuumed and cleaned the interior surfaces. All the trash was removed. The carpets were shampooed and the dashboard cleaned and conditioned. The result was a like new interior.
Reconditioning the dashboard really does wonders. Even after a long period of neglect, the dashboard can look like it is brand new.
Exterior Detailing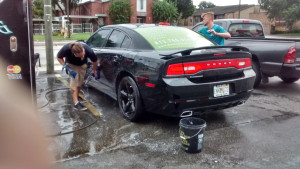 After the interior, we began to detail the exterior. First, we addressed the paint scratch on the door. We did that before washing. Then came a thorough pressure wash and wax. After the wax we went over areas that required a little extra attention with a high-speed buffer.
We use a high-speed buffer for many of the tasks required to make the paint sparkle. It is the most important tool of the professional detailer. The whole job took about three hours with two guys. At the end, Ivette's car looked great and we were ready to move on to the next gig.
Want your car detailed, call Detail Daddy