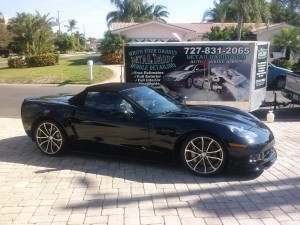 Auto detailing is more than just a car wash and a wax. Professional auto detailing is about thoroughly cleaning you car inside and out.
There is a big difference when you have your car detailed. Auto detailing not only cleans your car and makes it shine, it removes contaminates and other imperfections in your paint. It removes oxidation and scratches and can turn your car into a showroom quality automobile. Having your car detailed on a regular basis can add years to the life of your automobile exterior and interior.
Can you do it yourself? Certainly. However, you may not end up with the same results. You can get the professional tools and equipment, there there is more to the detailing than that. It takes experience and practice to get the techniques right to produce a top quality product. Technique plays an important part in the detailing process. Technique is the big deal and the reason you should search out a professional for the really awesome clean and shine.
What Are The Steps?
Exterior Detailing
Exterior car detailing  begins with washing and drying. After washing and drying, you can optionally apply a clay bar to further remove contaminants from the paint. This may be needed on occasion, but not every time you detail your automobile if you do it on a regular basis.
Polishing comes after drying the car. We'll go over some of the tools and cleaning products on a later post. Polishing leaves a high-quality wax on the paint to protect it from the sun and pollutants in the air.
After polishing, you address the rims and wheels. The wheels have grime removed and a protective coat put on them and the rims are polished and treated with sealant if needed.
Finally, the doors jams and windows are cleaned. The end result is a fantastically clean and shiny exterior well protected from the elements.
Interior Detailing
Detailing the interior of a car is equally important to keeping it looking sharp. Why do the outside and not the inside? The interior of a car needs to be vacuumed and dusted and the surfaces treated with conditioners to keep the inside in top condition. A full interior detailing could include a carpet shampoo along with leather and vinyl conditioners on the respective surfaces.
After your car is detailed, it should look sharp inside and out. That is the whole point. Auto detailing is about performing a thorough and intensive cleaning of your vehicle.
We at Detail Daddy do more for you and your vehicle than what was described above. The main difference between a do-it-yourself job and a pro job is the tools and experience using the tools. You can go fast with the power tools, but you can also damage your paint job. That is one of the reasons you go with a pro. Another reason is that you may be wondering how to remove some nasty stain. Don't take a risk on some funky advice on the Internet. Go with a pro. Let us take the responsibility of do in right. After all, that is what we do.
You May Also Be Interested In