A lot of different products and tools are used by professional detailers. In this post, I'd like to talk a little bit about how to remove an all-too-common problem with paint today: industrial fallout. Industrial fallout comes in all forms, from acid rain, to nearby industrial operations that put pain-harming chemicals and pollutants in the air.
How Is The Damage Created?
When the industrial fallout contains metallic particles, they can get lodged in the paint. The metallic particles begin to rust and eat away at the paint from both the outside and the inside. They are like microscopic slivers that penetrate to top layers of the paint. This is the problem that Super Fallout Removers is designed to combat.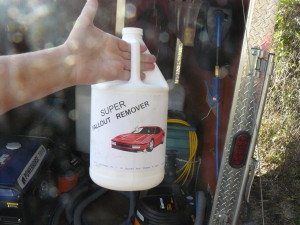 How To Spot Fallout Damage
How do you spot fallout damage? It is hard to detect at first because there are many things that affect the paint of a car. If you have your car detailed, a detailer will be able to spot the early stages of industrial fallout damage. However, some damage is easy to spot. If you live in a marine environment, you could be hit with a spray or airborne rust from someone prepping a ship for painting. That is easy to spot. Either way, you will want to make sure the particles are removed as quickly as possible.
How Do You Remove Industrial Fallout?
To attack this type of problem, we use a professional liquid fallout remover called Super Fallout Remover. This product gently removes deposits from the paint without harming the paint itself. If a car is affected by fallout, it is easy to take care of during detailing. The fallout remover is applied to the affected area, lightly rubbed in, and then sprayed off after a 5 to 7 minute period.
Super Fallout Remover
Using a product like Super Fallout Removers is a good solution for removing industrial fallout of all kinds. The only other sure-fire way of removing this type of damage is using a clay bar. However, you may not always want to take the time end energy to be that thorough. This is an alternative option that is one of the products used to keep paint in great condition.
Just a quick word of warning until next time: Super Fallout Removers is a chemical treatment. If you are going to use it yourself, make sure that you follow the recommended process as best you can. Chemical can heal applied properly and harm is misused.
You May Also Be Interested In