Look great and protect your investment!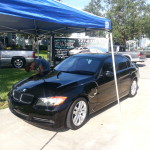 Mobile Detailing Clearwater. Mobile detailing brings the detailing to your place. You can't beat the convenience and the quality. Mobile detailing is done by people who have usually dedicated their careers to detailing. Mobile detailers are people who usually know what they are doing. Detail Daddy is dedicated to providing the best mobile detailing in Clearwater, bar none.
Take a look at our mobile detailing reviews!
Our Mobile Detailing Services
Mobile detailing comes to your door for quality and convenience. We are the tops in car detailing quality. Our mobile detailing service is all about exceptional quality and convenience.
Mobile Detailing Clearwater
Happy customers say it all. If you call us for mobile detailing, you will also become of our happy customers.
Having your vehicle detailed on a regular basis will make it look fantastic and maintain a high resale value. Regular detailing will keep the paint vibrant and beautiful long into the life of a car and add potentially thousands of dollars to the value when it comes time to sell.
Detail Daddy offers the finest mobile detailing services in Clearwater. Mobile detailing is for people who like to keep their cars in excellent condition and like the convenience of having the detailing done when they want where they want. Quality and conveniences is what mobile detailing brings to the table.
Google search mobile detailing Clearwater and look for Detail Daddy. Get your detailing done the mobile way! You'll be glad you did.