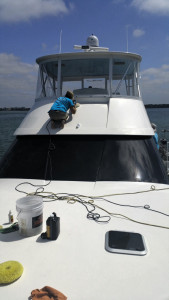 Comprehensive exterior detailing is much more than washing and waxing your vehicle. A comprehensive exterior detail will often bring your vehicle exterior back to a like-new condition. Oxidation and bug particles are removed from the paint. Swirls and other minor blemishes are also removed. Headlights are meticulously cleaned, as well as the rims and tires. Neglected vehicles can look sharp and well-cared-for vehicles can look like they just came off the lot.
A comprehensive detail will bring out the absolute best that your vehicle can be. At Detail Daddy we use  the best available products in the detailing industry. By using the best products and keeping up with industry improvements, we far exceed what you can get at any local car wash. A comprehensive exterior detail may take 4-6 hours depending on the size of your vehicle.
Comprehensive Exterior Detailing
Wash And Dry
Remove Swirls
Polish/Glaze
Wet Sand
Water Spot Removal
Rust Water Removal
Eliminate Stains and Contamination
Revive Black Trim
Clay Bar (optional)
Rims Cleaned and Tires Shined
Wax
The Process
First, the vehicle is washed with soap and water to remove the ordinary grime and dirt that accumulates on the vehicle exterior. Water spots and other easily removed contaminants are eliminated during the wash. Then we dry the vehicle.
Next, all imperfections are removed from the paint using a variety of detailing products and techniques: for example, compounding, high-speed buffing and using a clay bar. The exact techniques used depends on the needs of the vehicle. When on location, we determine the most appropriate activities to bring out the best results. Removing the imperfections takes up the bulk of the time in the detailing process. Meticulous attention is paid to the paint.
Once all the imperfections are removed, the paint is protected by a wax or glaze. This protects the paint and keeps your vehicle looking great for a long time. Finally, the tires, rims, and trim are detailed.
You May Also Be Interested In